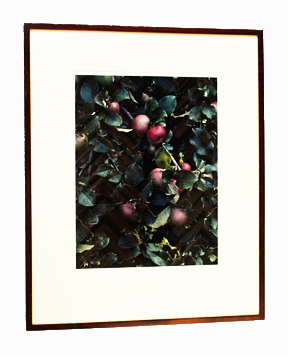 "Apples, Great Spruce Head Island, Maine"
Eliot Porter - Dye Transfer print - Padauk frame
We mill our wood frames with clean crisp lines that reflect modern architecture and interior design. They come in flavors as varied as autumn leaves. Ash, Maple, Cherry, Walnut, Mahogany and specialty woods like Rosewood, Padauk and Wenge are only part of the selection. Add a little stain and lacquer and the options of tone and texture are endless. Why would anyone want to use a bad reproduction on a new print or photograph when a real wood frame is a more honest partner for the art?
Of course, if you have a 19th century watercolor or etching, a custom made reproduction drawing frame in a classic finish is the preferred choice; however, if the correct period frame is not in your budget, don't settle for a prefinished cookie cutter molding. Keep it simple and pair your artwork with an archival mat and a natural wood frame. The point is, for little more than the price of an ersatz knock off, you can have a custom made wood frame you'll be proud to hang on your wall. Beautifully finished and properly proportioned, a natural wood frame will stand the test of time and give future generations something to appreciate and admire.